Faced with the bush fires of 2020 followed by the Covid 19 Pandemic, the small town of Yarram in Victoria turned to ART as its secret weapon against a potential tourist downturn, depression, and financial ruin.
The town has adopted an Internationally acclaimed street & silo artist to transform their building walls into a blaze of colour and hope.
World renowned street and silo artist Heesco Khosnaran was invited by local artist & film maker Wayne Tindall to transform the entire town of Yarram over a six-week period in March 2020. Long-time Yarram resident Eric Greenaway had previously seen Heesco's art works on the walls of Yarram's Bull Bar & Gallery, a bar recently founded by Anne & Wayne Tindall. Eric's vision was to engage several other building owners to transform their buildings with Heesco's art.
The result is an extraordinary street art precinct that has taken out the gold award for the best street art trail in Australia 2020/21.
Most of the paintings have been designed by Wayne Tindall in consultation with local building owners who have self-funded their own murals.
Gary Player - Yarram Golf Club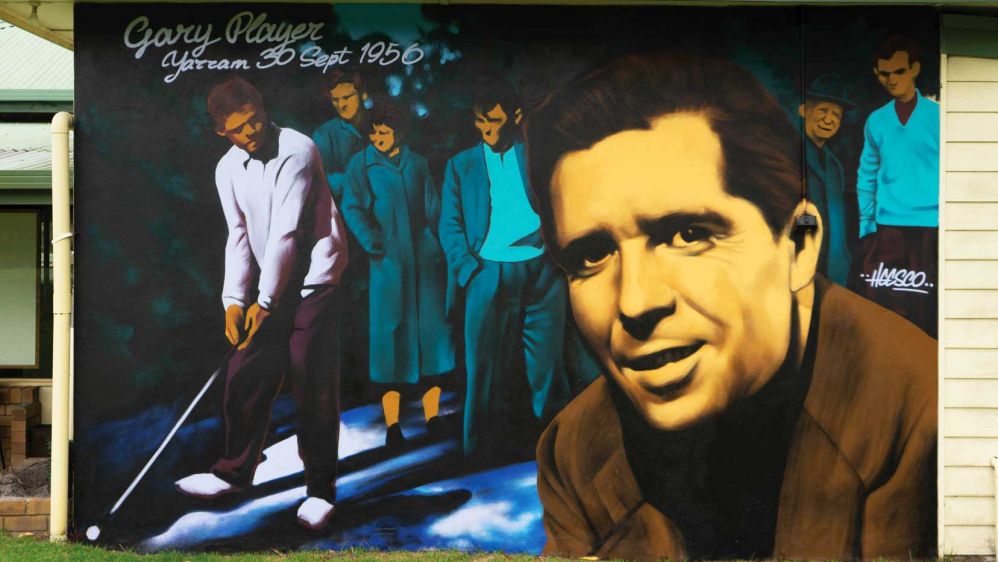 MURAL Gary Player - Yarram Golf Club
LOCATION – 42 Golf Links Road, Yarram, 3971
WHY I BECAME INVOLVED – "This project concept came about after I met artist Heesco Khosnaran when he last visited Yarram at the request of Wayne Tindall, to paint the Bull Bar and Ship Inn.
I quickly saw this as an opportunity to secure a famous Internationally recognised artist to paint several highly visible building facades in Yarram, that would attract the large numbers of Australians and International tourists who follow 'Silo Art' and 'Street Art', especially art done by Heesco.
I asked Wayne if he would coordinate the project to see if a group of 10 business and building owners would catch the vision and come on board. Wayne agreed and the project began to design and paint 10 huge paintings on 10 walls in Yarram. Heesco was commissioned and Wayne has worked with him daily, co ordinating designs with building owners, creating, and maintaining a social media platform, making a film documentary (where a group of high school kids were trained in film making techniques) and organising logistics around scissor lifts/access to sites etc. The project has gone without a single hitch and looks set to change Yarram for the better." Eric Greenaway – Project benefactor
THE MURAL DESIGN – Eric Greenaway's passion has been golf for most of his life, so when he saw the opportunity to help make HEESCO TOWN a reality, the foremost wall in his mind was at the Yarram Golf Club…and the image had to be Gary Player, the world-famous golfer who visited Yarram Golf Club back in 1956.
"I played around with a photograph that Eric had showing Gary player actually teeing off at the club back in 1956 and came up with a design that would work visually from any vantage point on the greens. Heesco then added his magic and executed a fantastic image that has already inspired many golfers at the Club." Wayne Tindall – Artist/film maker
ABOUT THE GOLF COURSE – Yarram Golf Club has recently been rated Australia's number 1 volunteer run & maintained golf course and is also rated in the top 10% of Victorian Public Access Courses.
Specialising in great value golf packages and only 2 hours from Melbourne's Eastern suburbs in South Gippsland, the course offers a superb climate all year round with plenty of wildlife looking on!
Visitors are well looked after by friendly members and a wide range of accommodation and dining venues are on offer in the region.
It has been described as "a magnificently watered 18-hole sand belt course carved out of native bush", and welcomes social club groups, anytime, including weekends. There would not be a golf course quite like this one in the world. It is immaculate and the many volunteers (many of them retirees) here do a better job than those who do it for a living. Together they are proud to make sure that Yarram Golf Course maintains its reputation as Australia's number one-rated volunteer-run golf course.
Bill & Toby - MG Trading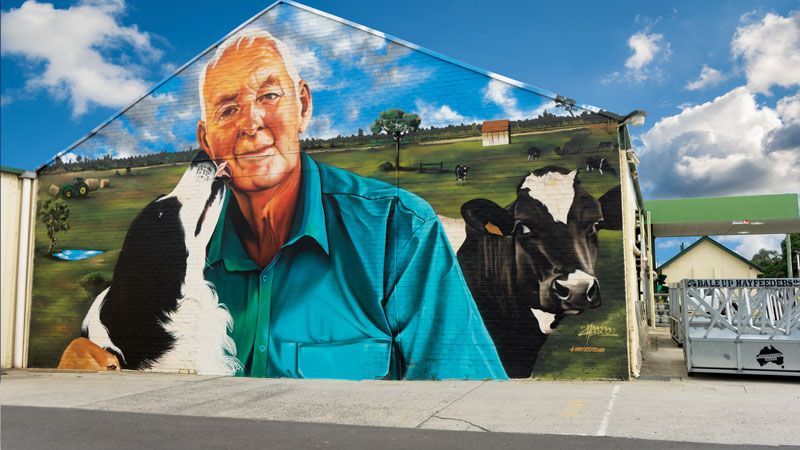 MURAL Bill & Toby - MG Trading
MURAL LOCATION – 39 Commercial Road Yarram 3971
ABOUT MG TRADING YARRAM – MG Trading is a supplier of rural merchandise; it caters for all farming needs with a specific focus on dairy requirements. The Yarram store employs seven people with another two being employed in our fertiliser business.
WHY I BECAME INVOLVED – "I have been with the company for 22 years the last 15 as store manager. We believe that the store is integral to the farming community carrying a huge range of products and the ability to source most requirements big or small. When first approached to be part of the Heesco town concept we were most appreciative, as myself, my staff and the company thought it was a fantastic idea. We have all seen what a difference it has made to other small rural towns who have embraced the concept. Many small towns like Yarram are looking for ways to attract more tourists and having the murals in various locations throughout the town, will hopefully help to achieve this goal. The original mural design was presented to us by Wayne, and we were asked to select a local person that typifies our business. Bill McKenzie was chosen as he has been involved with the Company for over fifty years, Bill was tanker driver for Murray Goulburn for a number of years, he also worked at the Trading Store as a delivery driver. Bill and Marg are dairy farmers who have always supplied their milk to the one company, for many years it was Murray Goulburn and of course more recently Saputo Dairy Australia. Bill has just recently retired from dairying but is still a great supporter of the store. The mural that has been created at the Northern entrance to Yarram is an outstanding welcome and will hopefully help to draw many visitors. Heesco has done an outstanding job bringing to life one of the districts outstanding characters along with a very handsome Border collie named Toby. We would like to thank Eric Greenaway for instigating the idea, Wayne Tindall for all his logistical work and of course Heesco who created sheer magic out of it all!" Jason Hobson , Store Manager
THE MURAL DESIGN – "I asked Bill to come in for a photo to gather some images for a design for MG Yarram. The idea was to create an iconic dairy industry image that would light up people as they approach Yarram from the north. Bill was very obliging but Jason's dog Toby needed to be at a level so we could see both him and Bill. We ended up grabbing a couple of bales of hay and popping Toby up next to Bill. He was much appreciative at the effort we had all gone to and turned to give Bill a kiss on the cheek. That was just the right shot and said it all for me.
When Heesco was nearing completion of this masterpiece, Bill turned up to inspect the progress. In a typically understated country manner, he stated…'it's getting better!' (I've heard a whisper that now it's finished he is delighted and immensely proud to be featured in this monumental painting)". Wayne Tindall – Artist/film maker
Ada Crossley - Mechanics' Institute Hall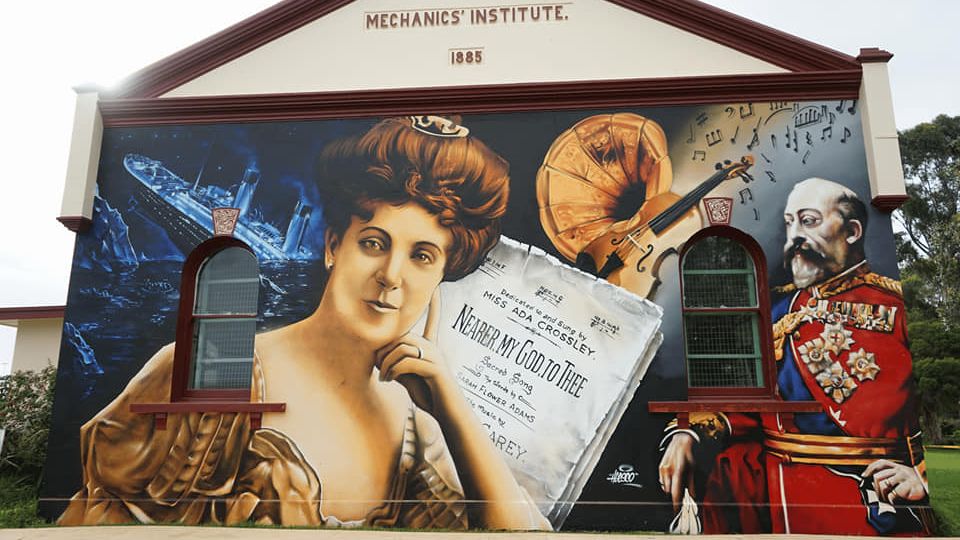 MURAL Ada Crossley - Mechanics' Institue Hall
LOCATION – 2-4 Church Street, Yarram, 3971
WHY I BECAME INVOLVED – "I was born 80 years ago in the Yarram hospital that sits over the road from the Yarram Mechanics Hall, and it was here that Ada sang to raise funds for Yarram's first hospital. When I learned that she was born just down the road in Tarraville, how famous she was and her connection to the Titanic I thought I have to get involved and make this mural happen…and it had to be on the Mechanics Hall. I was very pleased when the Shire agreed to issue a permit for the mural."
Eric Greenaway – Ada Crossley Mural Benefactor
THE MURAL DESIGN – "Eric got very animated when he first talked about the Ada mural so I initially played around with dozens of images. Eric Greenaway and myself spent many hours discussing the various aspects of Ada's long career and connection to Yarram. After a while I finally hit on the current design that Heesco has turned into a major work of art. One of his best pieces in my opinion."
Wayne Tindall – Artist/film maker
ABOUT THE YARRAM MECHANICS HALL – The Yarram mechanics' institute hall was constructed in 1860 and has seen a number of uses over the years. More recently it has been used as the home for the Yarram Guides and Scouts.
The hall is currently managed by the Wellington Shire and in March 2020, the Shire issued 'The Friends of Heesco Town' (a small not for profit group managing the Heesco Town projects in Yarram) a permit to paint a mural of historical significance on the wall facing Commercial Road. Eric Greenaway (a key benefactor in the Heesco Town Mural Project) agreed to fund a mural of Ada Crossley to honour the significant contribution Ada made both to Yarram and to the world at large.
ABOUT ADA CROSSLEY – In 1894, Ada travelled to London, primarily studying opera with Sir Charles Santley. After meeting Dame Nellie Melba, and reducing her to tears with her performance, Melba recommended Ada to the best operatic vocal tutor of the time – Mme Marchesi in Paris.
From 1896, she carved a significant career as a Contralto in oratorio and ballad concerts having a repertoire of over 500 songs, ranging from Gluck and Handel to Richard Strauss, and she sang in English, German, French, Italian, Norwegian, Danish and Russian.
On 29 October 1898, she sang before Queen Victoria, the first of at least 5 private performances and soon became a royal favourite, singing at many ceremonial occasions as a requested soloist.
It was around this time that she made several successful tours of many countries – Europe, South Africa, the United States, New Zealand and Australia. Whilst in New York, she played Carnegie Hall and made the first vinyl gramophone record for the Victor Company 'Red Seal' label.
Her fame was so globally recognised that Australia's most famous composer ~ Percy Grainger accompanied her on tour as part of her entourage & not vice versa! The famous Australian painter, Tom Roberts also painted her portrait which still hangs in the National Gallery, Canberra.
On May 20th, 1910, at the height of the British Empire rule, the Sovereign King Edward VII passed away. It was Ada that the royal family chose as the Soloist to sing at his funeral. Even though the Archbishop of Canterbury had previously chosen Ada as the principal vocalist for the Anglican Church of the United Kingdom, this was a royal request. This was one of the most prominent events of its time. Over 1 million people came to view the funeral procession. 11 carriages of the ruling heads of state of the world followed the funeral carriage. During the service, Ada performed to over 9 sovereign head of state, who ruled over most of the known world, 36 crown princes and other territorial heads of state – the Pacific, Asia and the Middle East, including President Roosevelt from the USA; and accompanied by hundreds of military regiments.
On April 14th, 1912, the HMS Titanic sank on its maiden voyage from Southport, UK to New York, USA, carrying 2208 passengers of which only 1503 survived. On that voyage were 8 bandmembers, chosen to play the hits of the day for the passenger's entertainment. On that night, after hitting the iceberg, these brave men picked up their instruments and played songs from their repertoire when everyone else were rushing to the lifeboats.
Survivors in the lifeboats agree the last song they heard played was 'Nearer My God To Thee " as the ship went down. It was recognised by survivors as a song made popular by Ada in her numerous world tours. This was corroborated by the discovery of the floating violin cases of the band leader – Wallace Hartley and 1st violinist, Jock Hulme at the foundering site. These cases contained the sheet music arranged by Lewis Carey and made famous by Ada. Ada was the only vocal soloist invited to perform at the Titanic Memorial Concert held a short time later- Empire Day, 24 May 1914 at Sir Royal Albert Hall.
This was a public holiday and huge crowds gathered in their thousands to watch and listen. This concert was made up of 7 conductors & 473 bandmembers of the best of the UK orchestras. She sang in front of 7,750 royalty, dignitaries and stewards. The afternoon ended with the auditorium: 'Rising as one to reprise "Nearer My God To Thee", the same song that Ada made famous and is thought that Wallace Hartley and his band were playing when the ship went down. Nearly all present were in tears.
Ada married an eminent throat specialist, Dr Francis Muecke, and revisited Australia in 1908-09, again with Grainger among her supporting artists. She continued to sing at charity concerts, especially during World War I. However, she started to withdraw from public life after this time.
Ada Crossley died on 17 October 1929 at Woodlands Park, Great Missenden, Buckinghamshire. After a memorial service at All Souls, Langham Place, she was buried in St Marylebone cemetery, East Finchley.
Beach Scene - Wynne's Building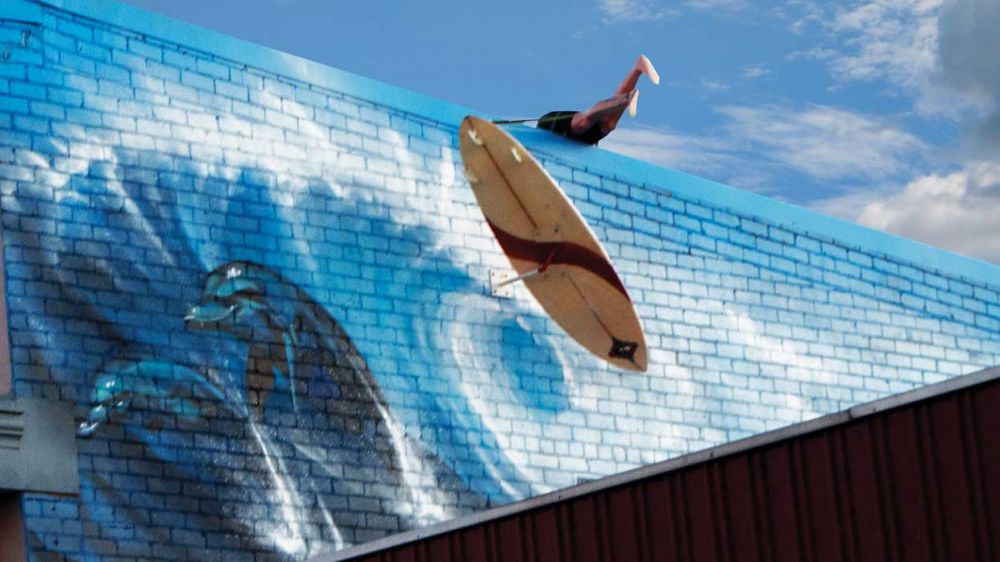 MURAL Beach Scene - Wynne's Building
MURAL LOCATION 200 Commercial Rd, Yarram VIC 3971
WHY I BECAME INVOLVED – "My mother and father came to Yarram in about 1955. My father was an orphan and came out from England as a 10 Pound Pom. He worked as an Accountant for a firm in Yarram and then bought the business with Graham Summers – hence Faulkner & Summers Accountants. My mother working as his secretary.
When the chance came to paint a wall at Wynne's we decided to put a wave on it because of our proximity to the 90 Mile Beach and Wilson's Promontory. Both our summer holidays were at Woodside Beach and Waratah Bay. We put dolphins in the wave as there are so many in the local inlets and Bass Strait.
Yarram has supported both our parents ie; Clients of Faulkner & Summers and Jayne's parents who ran a sports and camping store, as well as giving Jayne and myself employment along the way. Our past and current tenants have been good to us and we did this to attract more business for them. Hendo's Café, Ian Stewart Accounting, Yarram Neighbourhood House Fitness Centre, and Davis Manner Department Store.
Also, it is a big thank you to Yarram and all its residents and visitors." – Ashlie Faulkner – Building owner
THE MURAL DESIGN – "I played around with a few wave designs, but being a surfer from way back, Ashlie was pretty particular about the type and size of the wave he wanted on his wall. We finally settled on the 'right' wave and I mocked up the design for Heesco. Ashlie simply wanted a huge wave on his building. Pure and simple. Just a surf wave as a nod to the fact that Yarram is a major service centre for coastal communities in Gippsland, located south of the Strzelecki Ranges, east of Wilsons Promontory, and inland from the historic Port Albert..". "Oh, and you can you throw in a couple of dolphins while you're at it", he said to Heesco as he was about to clamber up to the roof top to begin painting.
The result is nothing short of amazing. Heesco Khosnaran is a true modern-day genius." Wayne Tindall – Artist/film maker
Sheep Shearer - Brown Wigg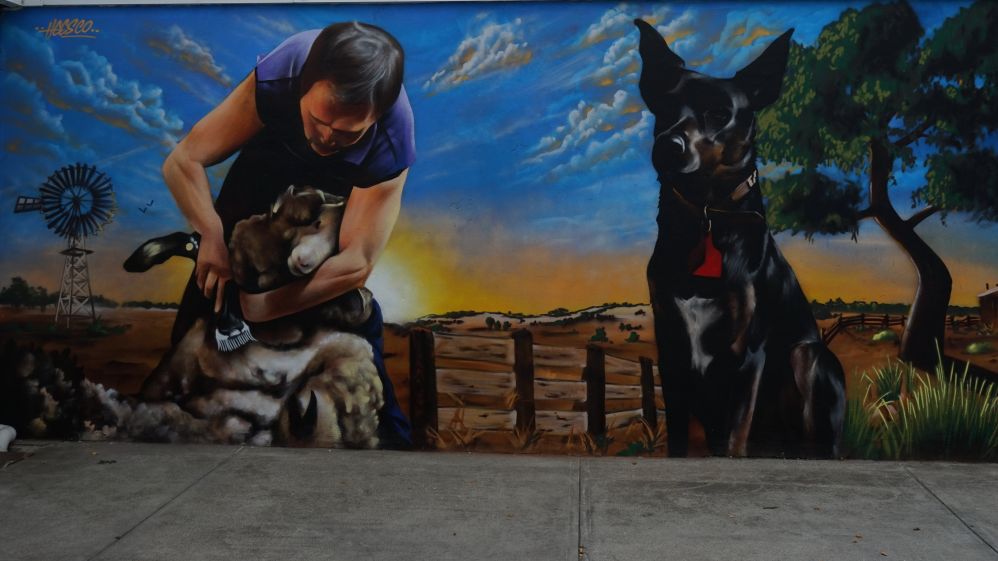 MURAL Sheep Shearer
LOCATION -191 Commercial Rd, Yarram VIC 3971
WHY WE BECAME INVOLVED
"When Wayne Tindall approached me about the Heesco Town project he had planned there was no hesitation this would be great for Yarram.
The painting of the Sheep Farmer shearing a sheep with his dog beside him represents our business perfectly, what we do for the community and for Wendy (the building owner) where she has spent her childhood growing up on a sheep farm in the Yarram area.
Heesco's work and detail of the wall paintings around Yarram has been nothing but amazing. The amount of people stopping and taking pictures and just seeing the joy on their faces during these troubled times of COVID-19 virus has been fantastic.
When these times are over the Heesco walls of Yarram will put our small town on the map.
Yarram should be thankful to be chosen by Wayne Tindall's Heesco project to showcase such amazing pictures to boost local business and put smiles on people's faces is nothing short of amazing." Grant Shanks – Yarram Brown Wigg Business Manager
THE DESIGN
"I designed images that I thought would be iconic Australian farm images that everyone could relate to. They were not of anyone in particular, just fun images, but when Heesco painted his magnificent piece on the wall…everyone wanted to know who this person was and what the dog's name was. I suggested to the community that they might want to decide. They quickly decided that the shearer was Kevin Heggen (a long-time local farmer who was a 'gun shearer' back in the day, and his good mate Ted). Kevin is my neighbour, so I checked with him and he is happy enough for the myth to unfold." Wayne Tindall – Artist/film maker
ABOUT BROWN WIGG – Brown Wigg began as two separate stores, Brownies Rural and Wiggies P/L. Both stores were in Sale, and when Brownies Rural outgrew its Union Street location it moved to Dawson Street, adjacent to the Wiggies business.

In 2005, Brownies Rural and Wiggies P/L merged to become the business now known as Brown Wigg.
During this time, a second store was opened in Maffra. This store was located in the main street with its main focus being hardware and power equipment.

Following the success of the Maffra store, stores were opened in Warragul, Bairnsdale, Yarram and Meeniyan.
Since opening these stores, we have acquired the long-standing local Traralgon business Jack Scott and Son's in 2016 which became the site of the Traralgon Store.
Battle of Beersheba – Yarram Indoor Sports Centre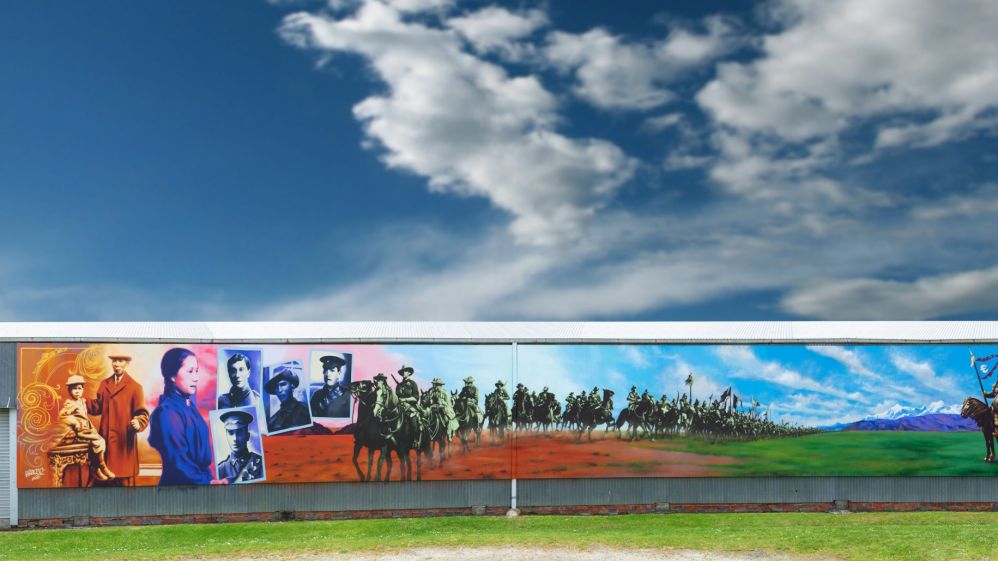 MURAL Battle of Beersheba – Yarram Indoor Sports Centre
MURAL LOCATION – Corner of Smith and Grant Streets – Yarram
ABOUT THE MURAL Heesco Town in Yarram Victoria is now world famous for its award winning Street Art, all painted by Mongolian born artist Heesco Khosnaran, but when local artist and film maker Wayne Tindall asked Heesco to come and paint murals in Yarram 2 years ago, Heesco had no idea that he wasn't the only Mongolian in the area. He recently discovered his forebears came to the area in the 1850's and soon learned of an amazing Mongolian story. In honour of this, Heesco has created a huge 26 metre mural that now adorns the wall of the Sports Stadium on the corner of Smith and Grant Streets in Yarram. This mural number 24 and is the last in the now world famous Heesco Town Murals that adorn Yarram and surrounds.

THE STORY – Local Gippsland resident, Kathleen Keene, heard about the murals being painted by Heesco and was excited to hear he was Mongolian. She contacted Heesco and sent him information about her great grandfather, Chin Langtip, who had moved to Australia from Mongolia in the 1850's and arranged for him to meet her brother Ron, and as they say the rest is history.

Heesco first met up with Kathleen's brother, Ron Shiels, and his wife Trish at the famous Bull Bar & Gallery in Yarram where he was painting the first of the Heesco Town murals. They met again recently with other members of the family, Boyd, and Margie Langtip, at the cemetery in Alberton where Chin Langtip is buried.
They told Heesco the fascinating story of how Chin had arrived as a nineteen-year-old from Mongolia and had soon established his own prosperous market garden business in Tarraville.

In 1870 Chin married Ron's great grandmother Mary Ann Prout and several years later, Mary Ann's sister, Elizabeth, became his second wife or 'friend; as she was then known as. Between them they had 17 children.

In February 1916, four of the sons, Leslie, Bertie, Ernie, and Henry were assigned to the 16th Reinforcements for the 4th Light Horse Regiment. They all returned home to Victoria in 1919 after having fought in the battle of Beersheba ending a crucial battle in the Sinai Palestine campaign of World War One.

This latest mural has brought several of the Langtip descendants together, the latest being Evelyn Parr from Wangaratta. Evelyn only found out about her Mongolian heritage two years ago and through a friend was put in touch with local artist Wayne Tindal. Wayne is the local artist responsible for the designs and marketing of the murals in Yarram.

Evelyn was beamed into a meeting in Yarram via zoom where relatives she had never met, Ron and Trish Shiels from Sale, Boyd and Margie Langtip from Foster and Peter and Vicki Langley from Korumburra were meeting with Heesco Town members Eric Greenaway, Garry Stephens, Wayne Tindall, and Heesco.
They shared their stories of their connection to Chin Langtip and how many of them and their children shared the distinctive blue birthmark that many Mongolians have when they are born.
Heesco and his children were also born with the birthmark, which fades over time.

This final mural has brought the whole community together with a sense of pride and wonder at the rich history that has sat hidden from locals for so many years…right in their back yards…and judging from the response on social media and visitors arriving in the town to watch the progress, this one mural looks set to establish Yarram in Victoria as the must see Street Art Destination in Australia.
Heesco Town has quite a following here in Australia and right around the world after taking out the 2020 Gold Street Art Award for best Art Trail in Australia.
Heesco Town has featured in countless social media posts and also in many mainstream TV shows here and overseas…recently featuring in the ABC Arts show 'Art Works' and the Channel 9 series Roads Less Travelled.
1950s Kitchen - Café Aga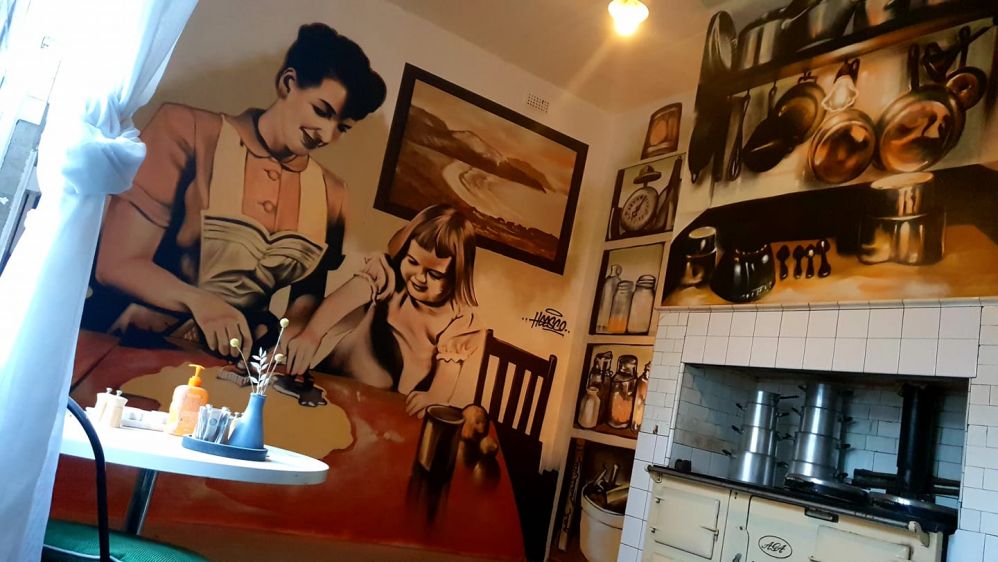 MURAL 1950s Kitchen - Café Aga
LOCATION – Café Aga, 219 Commercial Rd, Yarram VIC 3971 (inside the Cafe)
WHY WE BECAME INVOLVED "When we saw the murals around Yarram and were getting to open our new business, we just were so keen to have a Heesco mural in our small back room that features our famous Aga stove. I talked it over with Wayne Tindall and together we kicked around a few design ideas."
Mel Andrews – Owner Café Aga
THE MURAL DESIGN –"I initially discussed a number of ideas with Mel and her friend Kerry Anderson. They wanted an old-fashioned feel that suited the old Aga stove in the room that was to be painted. I suggested that we incorporate the Aga stove in the design, painting old pots and pans hanging above it, just the way it used to be. I then created an iconic image of a classic mum and daughter cooking at a table with a view of Wilsons Prom out the window…and Heesco did his magic. " Wayne Tindall – Artist/film maker
ABOUT THE CAFÉ AGA MURAL – Café Aga is a small intimate café in the main Street of Yarram with a large external courtyard that hosts live local music on a weekly basis.
Thank You Australia - Yarram Bakery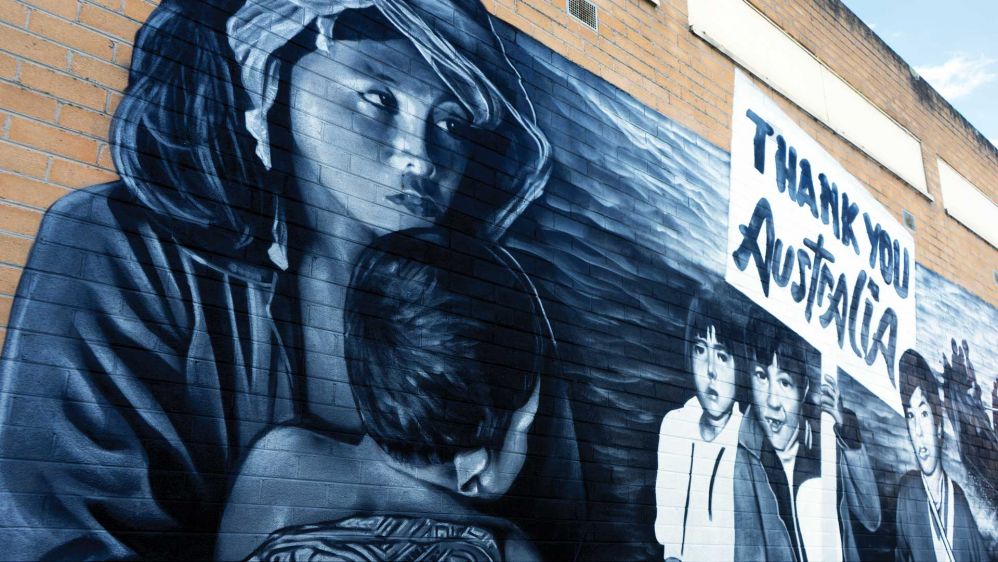 MURAL Thank You Australia - Yarram Bakery
LOCATION – 222 Commercial Rd, Yarram VIC 3971
WHY I BECAME INVOLVED – "All this time I have worked hard and have been trying to figure out how I can ever say thank you in a public way to Australia for taking me in. When Wayne asked me if I would get involved with a painting on the wall of my business, I thought, this is my chance to say thank you Australia. That is all I wanted. To say thank you." Liem Nguyen – Yarram Bakery
THE MURAL DESIGN – "Liem was positive right from the get-go. He was not sure what to put on the wall, but it had to be something about the persecution and the horror trip he took to get here where thousands perished. I came up with a design but insisted that he had to feature in it. He was reluctant but I managed to grab a photo and mocked up the design. Heesco was listening to Liem talking to me about his ordeal and immediately decided that the image had to be monotones…to reflect the enormity of the suffering Liem had witnessed. The result is a very powerful image. I think this wall is going to be talked about for some time to come. Liem has finally told his story to me on camera. He insisted that it had to involve a bottle or two of particularly good whisky. Something that I wholeheartedly endorsed." Wayne Tindall – Artist/film maker ".
ABOUT THE YARRAM BAKERY – Liem Nguyen settled in Yarram in 1983 as a refugee from the Vietnam war. He has never forgotten the welcome he received from the then Fraser Government as a boat person fleeing persecution. He remembers vividly the warm welcome into Australia, people with open arms. It was quite a different time.
Yarram Bakery Cafe offers delicious baked goods - from bread to pies, pastries to meringues. Stop in for a coffee, lunch, or a great place to sit and enjoy the town.
Indigenous Mural – Yarram Bakery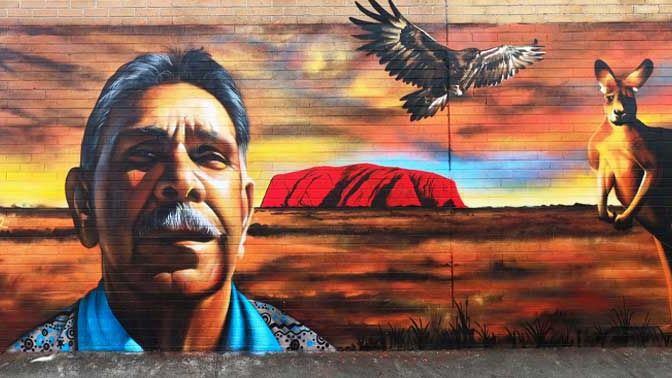 MURAL Indigenous Mural - Yarram Bakery
MURAL LOCATION – 222 Commercial Rd, Yarram VIC 3971
ABOUT THE YARRAM BAKERY – Liem Nguyen came to Australia in 1983 as a refugee from the Vietnam war. He has never forgotten the welcome he received from the then Fraser Government as a boat person fleeing persecution. He remembers vividly the warm welcome into Australia, people with open arms. It was quite a different time!
WHY I BECAME INVOLVED – "I commissioned Heesco to paint my first mural to say thankyou to Australia for welcoming me as a refugee, but I really wanted to also let people know what was in my heart, what I had imagined Australia was going to be like. I thought a lot about it and asked Wayne Tindall to design a mural that would capture the vision I had in my head as I arrived . I wanted to capture the colour, the wide open spaces, the wildlife and the original owners of the land." Liem Nguyen – Yarram Bakery
THE MURAL DESIGN – "Liem really wanted to honour the original owners of the land and asked if I would know any Aboriginal Elders that might want to be portrayed on his wall. It just so happened that I had been working with the Lakes Entrance Aboriginal Health Association (LEAHA) for several years creating a number of media campaigns for them and had gotten to know Uncle Tom Perry very well. I asked Tom if he would be willing to be painted up 'larger than life' as part of the project and straight away he agreed. Tom also sat down with Anne and I and told his harrowing story on camera, relating that as a child he was tricked by authorities to leave his home and was then snatched away from his parents at a very young age as part of the stolen generation. This portrait is life like and Tom is very proud to be part of Heesco Town." Wayne Tindall – Artist/film maker".
Bull Bar & Gallery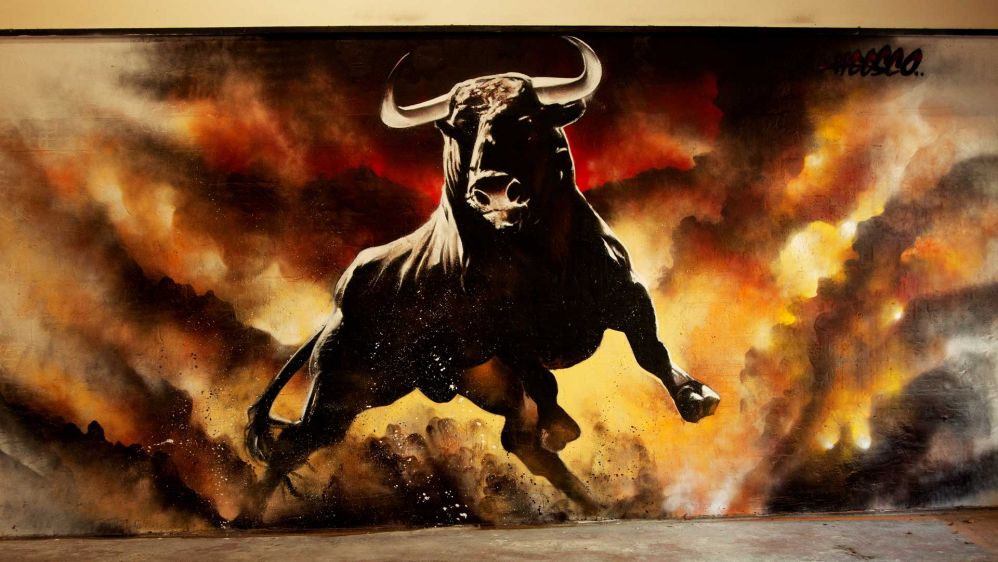 MURAL Bull Bar & Gallery
LOCATION – 258 Commercial Rd, Yarram VIC 3971 (Internal on bar walls and external rear walls of beer garden. External murals accessible from Grant Street).
"I first met Heesco when Anne and I created the now famous Artists Lane in Windsor Melbourne. Since then, Heesco and myself have completed many successful community street art projects around Victoria, so when I moved to Yarram and built the Bull Bar, I invited Heesco to come and paint the now famous Bull inside the Bar."
WHY I BECAME INVOLVED "Heesco has been back twice since, painting the external walls in the beer garden and more recently both walls inside the dining area.
The Heesco Town concept came about after Eric Greenaway met Heesco Khosnaran at the Bar over a bottle of Shiraz. Eric quickly saw this as an opportunity to secure a famous internationally recognised artist to paint a number of highly visible building facades in Yarram, that would attract the large numbers of Australians and International tourists who follow 'Silo Art' and 'Street Art', especially art done by Heesco." Wayne Tindall – Artist/film maker
ABOUT THE MURAL – The Bull Bar & Gallery is a welcome addition to Yarram, a beautiful historic town the heart of Gippsland.
Founded by artist Wayne Tindall with his film maker wife Anne, the Bull Bar is a thriving social, gastronomical and live music hub.
Yarram is a major service centre for coastal communities in Gippsland, located south of the Strzelecki ranges Ranges, east of Wilsons Promontory, and inland from the historic Port Albert.
The Bull Bar & Gallery is committed to this vibrant part of Victoria sourcing a great selection of craft beers, wines, local in season produce and stunning cheeses from all over the Gippsland region.
The Bar features stunning artwork by world famous street artist Heesco Khosnaran both on the inside and external walls.
You could be mistaken for thinking you were chilling out in a funky cafe or bar in the heart of Brunswick, Fitzroy or St. Kilda. A little oasis with a great vibe…just get yourself here!
Jersey Cows – Lowrie Family Mural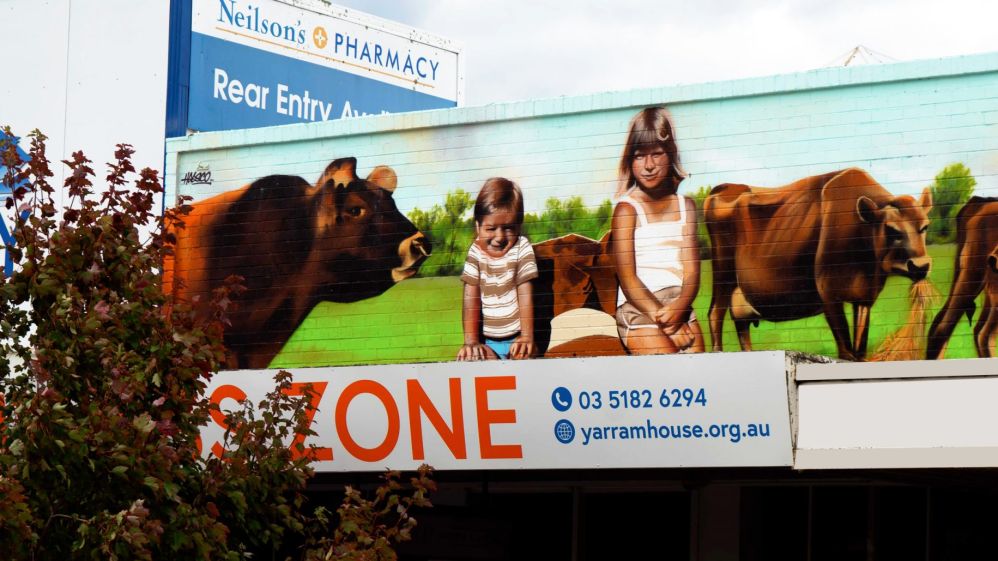 MURAL Jersey Cows - Lowrie Family Mural
MURAL LOCATION – 251 Commercial Road, Yarram VIC 3971
ABOUT THE MURAL
The mural represents the wonderful Jersey cow's presence, and dairy families' tradition in the local area and depicts Marg and Gordon's two children taken on their first day of ownership of the 329 acre property "Brookfield" in the Greig Creek valley at Won Wron. They were only the 3rd owners since selection and had been held by the McLean family for over 90 years.
With the property they also purchased the Brookfield Jersey Stud and so began their 35 year career in dairy farming and their love of the Jersey breed.
Still today there is a large nucleus of Jersey cows in the Won Wron valley.
Over the years due to excellent breed characteristics and high production figures the Stud had 3 bulls enter the AI breeding centre, with VAB and made available for breeding with other farmers. Depicted is a fine example, Brookfield Red Victory.
Also featured in the mural is the cow carrying ear tattoo No 1 in the stud herd.
She is pictured at 14 years of age with her last heifer calf carrying ear tattoo No 500 which was a great milestone for the family to reach in the Stud breeding program.
WHY WE BECAME INVOLVED – " We simply wanted to celebrate our love of the Jersey breed and leave a lasting memory of Brookfield. The stud was dispersed upon our retirement in 2015 with all cows purchased by 2 local farmers. Their breeding heritage can still be seen in the local dairying area to this day." Marg & Gordon Lowrie
THE MURAL DESIGN – "Marg approached me in the early days with a couple of small photos of her beloved Jersey Breed cow. Another photo of the bull arrived later with a separate photo of the kids at Brookfield. I played around with them for some time and finally came up with a fun image that has certainly brightened up the main street of Yarram. "
Wayne Tindall – Artist/film maker
Then & Now - The Bean Pedlar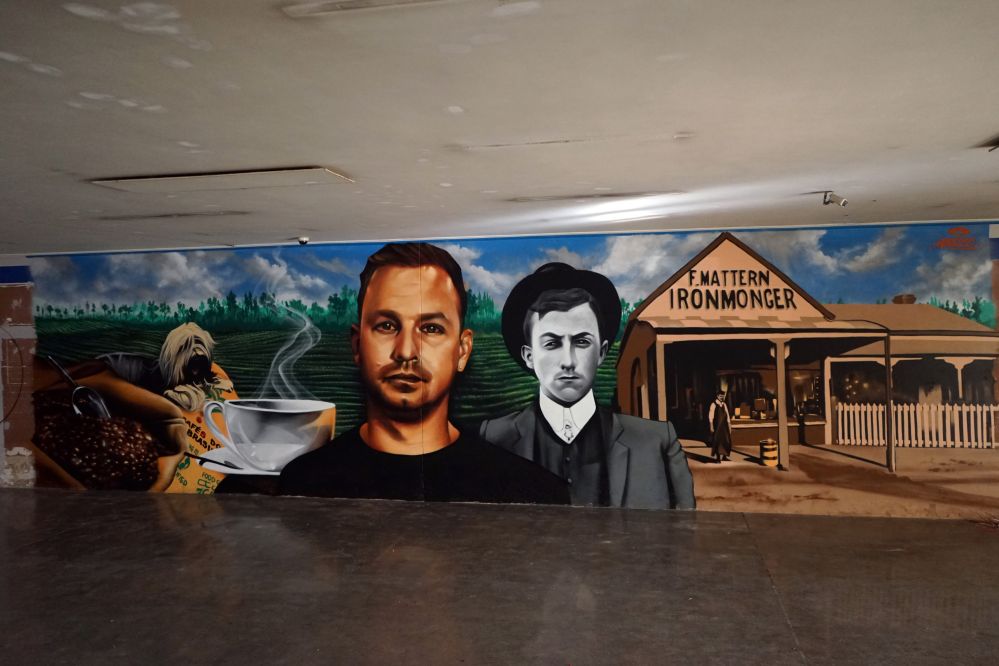 MURAL Then & Now - The Bean Pedlar
MURAL LOCATION – The Bean Pedlar, 259 Commercial Rd, Yarram VIC 3971 (inside the shop)
ABOUT THE MURAL –The mural inside The Bean Pedlar's shop is important part of the building, as it depicts the rich history of the building. The beautiful artwork shows the transition of the former building to its current life as The Bean Pedlar. The original artwork depicts Victor Hugo Mattern, a son of Franz Peter Mattern who established Mattern's hardware on the site back in the 1887. The building remained in the Mattern family for four generations until purchased by new owner Robert Drakeford's family in 2019.
The second half of the mural shows this transition, with Robert, his parent's dog Dougal, a coffee field and coffee beans.
"Growing up in Yarram, I have fond memories of visiting certain shops in our community. They were meeting places for locals to come together and were more than just a shop. Our family bought the shop in mid 2019, and we want to make sure that this important legacy remained true.
The mural reflects a transition in the history for the store – from the Mattern family until now.
The shop is about to enter a new chapter of life and will soon become a new attraction for the Gippsland community. We import and roast coffee beans from all over the world, bringing them to the heart of Yarram.
Our hope is that visitors will not only get a great cup of coffee, but also take away a memorable experience due to the unique atmosphere and rich history. We want people to take in the smells and the sounds of coffee roasting, and the wonderful social aspects this brings.
We are very passionate about the Yarram community and want to give back to the area that has given our family so much.
This is a very exciting time for us having opened a new cultural meeting place that conjures memories like I had as a child." Robert Drakeford – Business Manager
THE MURAL DESIGN –"I took several photos of Robert and we finally settled on the one that now features on the wall inside the soon to be Coffee Roasting Business. It was great to have a wall inside out of the weather for Heesco to move to when the rains set in for a few days.
The previous building owner who has now retired to Sydney is extremely proud to see his family history featuring on a new business springing up in downtown Yarram." Wayne Tindall – Artist/film maker
Kara Healey - Betta Home Living
MURAL Kara Healey in the Tarra Bulga National Park - Betta Home Living
LOCATION – 262 Commercial Rd, Yarram VIC 3971 (Rear of building in Grant Street)
WHY WE BECAME INVOLVED "The reason we wanted to place a photo of Kara Healey on the mural is to recognise her important role in the history of Tarra Bulga National Park. We wanted visitors to Yarram to become aware of the fantastic things to see and do in and around Yarram, and to experience firsthand the Tarra Bulga national park, a remnant of the temperate rain forest that existed in the Strzelecki Ranges and a park that is especially important to enable us to view the history of the forest in the area. Overall, the mural serves to both mark the importance of Tarra Bulga National Park for all Australians and helps to mark the work of an important historical figure in Kara Healey."
Having seen the work Heesco did for Wayne and Anne who own the Bull Bar & Gallery that shares a common wall with my building, I had no hesitation when I was asked If I wanted to participate in this project."
Garry Stephens – Building Owner
THE MURAL DESIGN – "When Garry mentioned Kara Healy, I did a bit of research, talking to the local Yarram Museum and discovered that unknown to many, Kara's daughter now 93 years old actually lived in Yarram just around the corner. So off I went to visit her and straight away she whipped out an old photo album and scrap book filled with here Mum's life. She allowed me to take a few snaps from the book and I used one of the better ones to create a mockup image for Garry and Judy. They were delighted and now even more so now that Heesco has brought their idea to life on this wall, ensuring many visitors to Heesco Town will get to see the spectacular Tara Bulga National Park where Kara spent most of her life. " Wayne Tindall – Artist/film maker
ABOUT THE MURAL – Kara Healey came to the Tarra Bulga National Park in 1949 and after the death of her husband Jim effectively became the first female park ranger in Victoria in 1952. As well as being the Park caretaker Mrs Healey collected an impressive range of specimens from the Park and sent them to places like the CSIRO and The National Museum of Victoria. The image of the lyrebird is a reminder that the national Park is a home to many native animals. One of the most popular animals is the lyrebird and many visitors are lucky enough to see one on the numerous walking trails that intersect the Park. The mural also depicts Corrigan's Suspension Bridge at Tarra Bulga National Park was inspired by the fact that the bridge is an iconic image in the district. Every visitor to the Tarra Bulga National Park visitor centre at Balook wants to walk to the bridge. It is seen in many tourist publications promoting Gippsland. Frank Corrigan was the Shire Engineer of the Alberton Shire and a supporter of the original Tarra Bulga National Park. The original suspension bridge was re-erected in Bulga park after it had originally served as a property access at Alberton West.
Scammell Family – The Men's Shed
MURAL The Scammel Family - The Men's Shed
LOCATION – 22 Bland Street, Yarram VIC 3971 (Yarram Men's Shed)
WHY I BECAME INVOLVED "The reason I wanted to contribute this mural to Yarram is simple. Yarram was good to us, good to our kids and I just wanted to give something back. I think it is fitting that it was painted on the Men's Shed in Yarram and I think Heesco has done a marvellous job. The likenesses are uncanny. " Margaret Scammell – Widow to Geoff Scammell depicted far right in mural"
THE MURAL DESIGN – "I spent a lot of time with Margaret pouring over old photographs and clippings, trying to get a sense of the men…who they were and how they fitted into the total picture. I made a few mistakes along the way as Cliff and Geoff looked so much a like I got a little confused. We eventually sorted it out. The day before we were due to start, Heesco suggested that we turn this mural into a sepia tone which was a brilliant idea as it adds a real sense of history and nostalgia." Wayne Tindall – Artist/film maker
ABOUT THE MURAL –In 1920, after the death of his father, Reg Scammell with his mother and three sisters came south from Gardenvale in Melbourne, to try and eke a living from a heartbreak farm in the hills of Blackwarry. This proved to be an impossible venture, so in 1923 Reg went to Melbourne to serve a building apprenticeship with his uncle, Fred Head. After completing his apprenticeship, Reg was involved with construction in Melbourne and regional areas. The Robinvale Railway Station was just one of his early projects.
In 1928 Reg returned to Yarram and commenced constructing houses, shops and out-buildings in town and surrounding districts. In 1931 he married Marjorie Lowe and subsequently made their home in Devon North. Two of his first employees were his father-in-law Bill Lowe and Stan Gooding – Stan being a well-known identity in Yarram as the proprietor of Stan Gooding Holden Motors.
Reg won the contract for the construction of all the Housing Commission houses in the town as well as for those in Toora. Together with construction of private homes and shops, there was no shortage of work in the early years. Reg introduced the "conite" method of construction to the district and many instances of this medium are still prevalent in the area.
Reg and Marjorie had a family of four, George, Geoff Anne, and Cliff. All three sons became part of the family business. George commenced in 1948, Geoff in 1955 and Cliff in 1961. Early on, all cupboards and joinery were constructed on site however in later years Reg – and later George, produced all the joinery in the factory/workshop at the Scammell home in Devon North. In the late seventies Reg retired due to ill health and the business continued with George and Geoff at the helm.
Some of the shops in Yarram – Wynnes Bakery, Les Wynne Drapery, Hastings Chemist, Bill Collins Electrical, the old Library/Comfort Station building and many others, all still hold pride of place in the main street. The Devon North Sunday School Hall, the Woodside Hall and other public venues, all managed to withstand exuberant social activities over the years and are testament to the building expertise of the Scammell gang.
George and Geoff, with long time workmates Joe Dean and Geoff Coulthard, remained with the firm until it was time to hang up the nail bags in the late nineties. The number of homes, shops, halls, fire stations, buildings of all sizes and descriptions in the district, which bear the Scammell stamp, is too numerous to mention.
Depicted in the mural from left to right – Reg Scammell, George Scammell, Cliff Scammell, Joe Dean & Geoff Coulthard (loyal members of the team for many years) & Geoff Scammell.
Ralph Vale - Federal Coffee Palace
MURAL Ralph Vale - Federal Coffee Palace
MURAL LOCATION – 305 Commercial Road Yarram 3971
ABOUT THE FEDERAL COFFEE PALACE – The Federal Coffee Palace building has a unique place in the history of Yarram and is highly visible as you come into town from the South.
Although not the first brick building to be built in the town, the Federal Coffee Palace is the oldest remaining brick building in Yarram (Victoria, Australia). The actual construction date is uncertain, but some historical records show that it was built in 1888 by Charles Stockwell for James Buckley, whose initials are on the corner facade.
The building was purchased by Peter Stone and Wendy Bouker in November 1990. The owners residence at the time was in the single-storey section at the right of the building, on James Street. The first floor was a 'boarders area', for short and long-term residents. Peter and Wendy occupied the majority of the top floor from 1991 till 1999.
The Yarram Coffee Palace Cafe run by Paige Eaton operates on the ground floor of the building.
WHY I BECAME INVOLVED – "I was originally approached by Wayne Tindall about the possibility of having a major mural painted on my building. It was in fact something that Wendy and I had talked about many times before and when I saw the calibre of the work that Heesco had done in the Yarram Bull Bar owned by Wayne and Anne Tindall, we jumped at it.
Although there were several candidates to have their face on this building, Ralph Vale for me was an obvious choice. Ralph was a Bullocky back in the day…he died about 10 years ago now. He lived up in Hiawatha and was known and loved by many in the area…. a traditional old timer.
Ralph took his Bullock Train from Walhalla to Port Albert for the 150th Anniversary of the port which was quite a journey. He even made shoes for the Bullocks out of old car tyres! He also used to bring the Bullocks down from Hiawatha to take part in the Yarram Tarra Festival each year. In the early days, some of the Bullock Trains had pairs of 16 which was quite remarkable. Everyone loved old Ralph!
Ralph represents the early settlers that made this area what it is today. I thought it was important to commemorate him on my building….and judging from the public response, I think I made the right call." Peter Stone – Building Owner
THE MURAL DESIGN – "Peter played around with dozens of images for this painting and then Eric Greenaway and myself spent some time with Peter sifting through these ideas until we all finally settled on the image that now sits on the wall of the Federal Coffee Palace.
Logistically the painting was quite a challenge being on a corner and being two stories high, however the community were very understanding as we manoeuvred the Cherry Picker back and forth to create the image. Fortunately, Heesco has all his working at heights certificates having recently completed three silo projects around Australia.
The painting has created a great sense of pride and fond memories for many in Yarram, even reducing some to tears as the likeness of Ralph is represented two stories high in front of them." Wayne Tindall – Artist/film maker
Blacksmiths - Yarram Tyres & Exhausts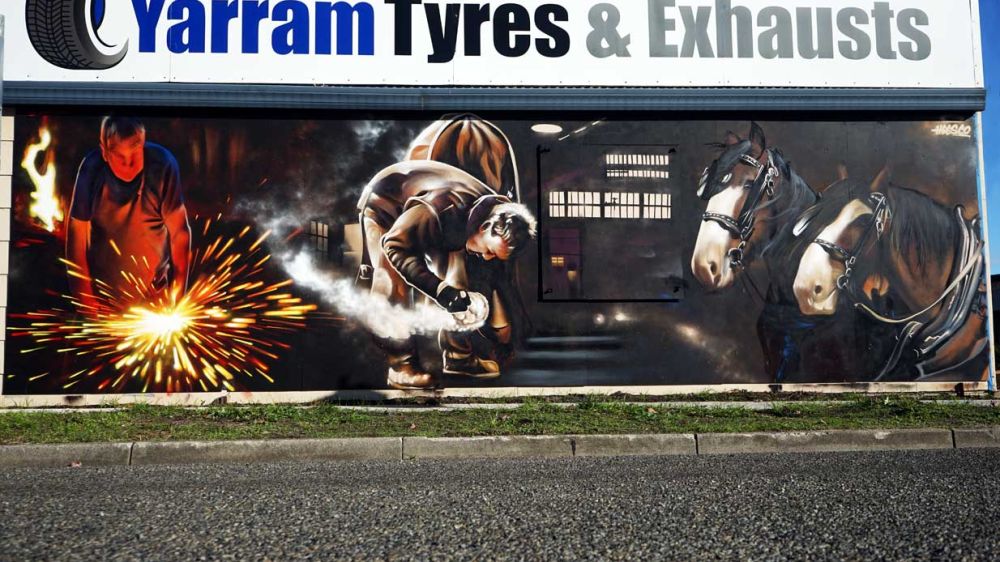 MURAL Blacksmiths - Yarram Tyres & Exhausts
MURAL LOCATION – 21 Bland St, Yarram VIC 3971
ABOUT YARRAM TYRES AND EXHAUSTS –
Yarram Tyres and Exhausts offers a friendly and competitive service for the Yarram and wider community. With the building having a pole and beam construction harking back to the days of blacksmiths and stables for working horses, the theme for this mural quickly became apparent.
Over the years the building has seen many businesses come and go that support the local agricultural and rural community. From a one-time Holden Dealership to its current use as a busy workshop for tyres both large and small, this building has seen it all.
WHY WE BECAME INVOLVED – "Both our families have strong local connections, so we welcomed the opportunity to be involved in the Heesco Mural Project, to create an image that reflects our community and one that fondly reflects on the days gone by. Gary's family has very strong historical links with Yarram and the people that helped build this community with his Grandfather Chris and Father Fred Mason owning the original Yarram Motor Garage".
THE MURAL DESIGN – "I spent some time in the actual building where you can drink in the history with the old wooden beams and posts. You could almost feel the heat of the old forges and hear the clanging of the blacksmith and the clatter of hooves on the floor. I created a simple, but I feel powerful image that takes you back to a slower pace of life, bringing a real sense of history and nostalgia. Wayne Tindall – Artist/film maker
Offshore Wind Farm – Star of the South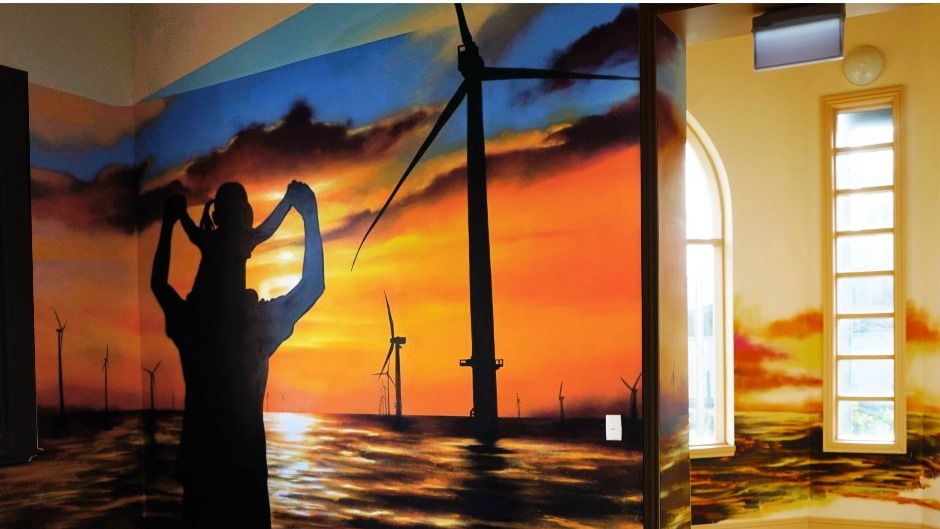 MURAL Offshore Wind Farm – Star of the South
MURAL LOCATION – The Star of the South, 310 Commercial Rd, Yarram VIC 3971 (inside the office)
WHY WE BECAME INVOLVED – "When Anne Tindall from The Yarram Bull bar first put the idea to us that we could have a Heesco Mural in our new offices in Yarram, we jumped at the opportunity. We love the murals around town and look forward to working in our new offices looking across at the wonderful images Heesco has created for us." Erin Coldham – Chief Development Officer"
THE MURAL DESIGN – "I discussed potential themes with the Star of the South team, and we settled on wind turbines at sea with a stunning sunset scene. I played around with these ideas and final came up with an image of a father and daughter looking out to sea (a symbol of a brighter cleaner future), with the turbines in full view. I think it has worked out very well."
Wayne Tindall – Artist/film maker
ABOUT THE MURAL – Star of the South is Australia's first offshore wind project. Proposed to be located off the south coast of Gippsland, it has the potential to supply up to 20% of the State of Victoria's electricity needs while creating jobs and investment. If developed to its full potential, Star of the South would generate up to 2.2 GW of new capacity, powering up to 1.8 million homes across the state. The offshore wind farm is proposed to be located 7-25km off the south coast of Gippsland near towns such as Port Albert, McLoughlin's Beach and Woodside Beach.
Turbines would be installed out at sea and spaced apart to allow room for boats to navigate through.r
Covid Heroes – Memorial Gardens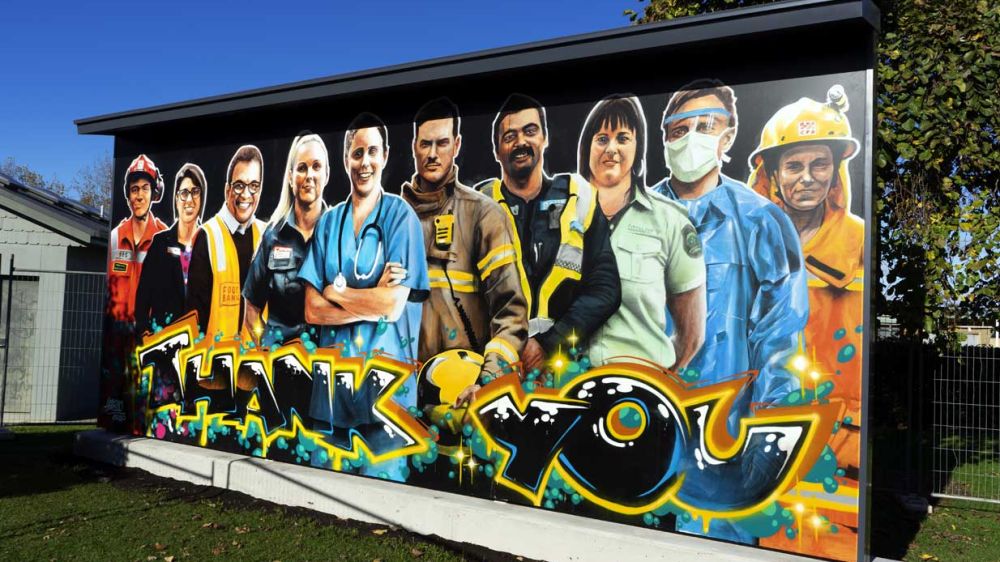 MURAL Covid Heroes
MURAL LOCATION – Entrance to Memorial Park Yarram VIC 3971
ABOUT THE MURAL
In 2020, The Office of the Governor of Victoria commissioned Heesco® Khosnaran to paint this impressive mural to recognise and thank the many frontline workers who have cared for Victorians throughout the devastating summer bushfires of 2020, and the subsequent COVID-19 pandemic.
After seeing the Heesco Town murals on a recent ABC news report, The Office of the Governor commissioned Heesco™ Khosnaran to paint an impressive 7X4 metre mural to recognise and thank the many frontline workers who have cared for Victorians across throughout the devastating summer bushfires of 2020 and the subsequent COVID-19 pandemic.
The Governor's Office said: "While it wasn't possible to include a representation of every organisation that has had an impact this year, it was intended that the image serve as a reminder that those on the frontline are ordinary people who do extraordinary things, stepping up for others, as and when needed. In realising this project, it was also important to recognise the devastating blow suffered by Victoria's creative industries during COVID-19. To that end, hoarding being used towards the end of a ten-year repair and conservation program at Government House was seen to be a perfect canvas for this artwork, painted by Melbourne street artist Heesco."
The mural was on display at Government House for several months , where it formed the backdrop to a range of 'Thank You' events and has given many Victorians the opportunity to view the incredible work up close.
The mural has now been donated to Yarram (Heesco Town) at the request of the artist
A hand over took place on Thursday afternoon April 29th with a formal Civic Ceremony in the Memorial Gardens hosted by the Friends of Heesco Town and the Wellington Shire. The Governor then took the opportunity to visit the other murals in and around Yarram followed by visits to local businesses and a highlights tour in and around this historic part of Victoria.
THE SIGNIFICANCE OF THIS MURAL
This 'Thankyou' mural forms a natural gateway to Heesco Town. From here you can set out to explore the other wonderful murals that make up the Heesco Town Art Trail, many with historical significance and interesting back stories which can be found on the Heesco Town website. Wayne Tindall – Artist/film maker
Galleon Scene – Ship Inn Motel
MURAL Galleon Scene - Ship Inn Motel
LOCATION – 480 Commercial Rd, Yarram VIC 3971
WHY I BECAME INVOLVED – "I met Wayne and Anne when they first opened the Bull Bar in Yarram and quickly got to know them. After some discussion about Heesco and his artworks that we had seen at the Bull Bar, Jody and I decided to invite Heesco to our motel, where he painted a galleon battle scene on the front wall of the Motel.
We then commissioned Heesco to paint a huge fantastical mural that took shape over many meals and laughs as he stayed at the motel over several weeks painting here and throughout Heesco Town. Paul Frost – Ship Inn Motel Yarram
THE MURAL DESIGN – "When it came to deciding what type of art we wanted at the Ship Inn, Wayne and I initially brainstormed over glasses of whisky that became empty quickly, and inspiration struck for a bar scene. We imagined the bar filled with colourful characters such as pirates, skeletons, and a Mongolian Warrior Queen. Of course, Jody also insisted that a treasure chest would be a necessity. I was completely open to creativity and in the end we all just left it to Heesco to have free reign on the wall…and of course something magical happened as it always does when true creativity is left to fly freely.
I get excited and get goose bumps when I think about the painting. This is a wonderful piece of art I get to see every time I walk outside and is the first thing I see when I look out our bedroom window. To describe the piece is difficult, it's like describing Van Gogh's Starry Night. Heesco's artwork needs to be viewed in person to experience the true depth and colour of the piece. At certain times of the day, the light changes and I can see details I had not seen before, and the painting seems to come alive." Paul Frost – Ship Inn Motel Yarram
Historic Hotel – Victoria Hotel Alberton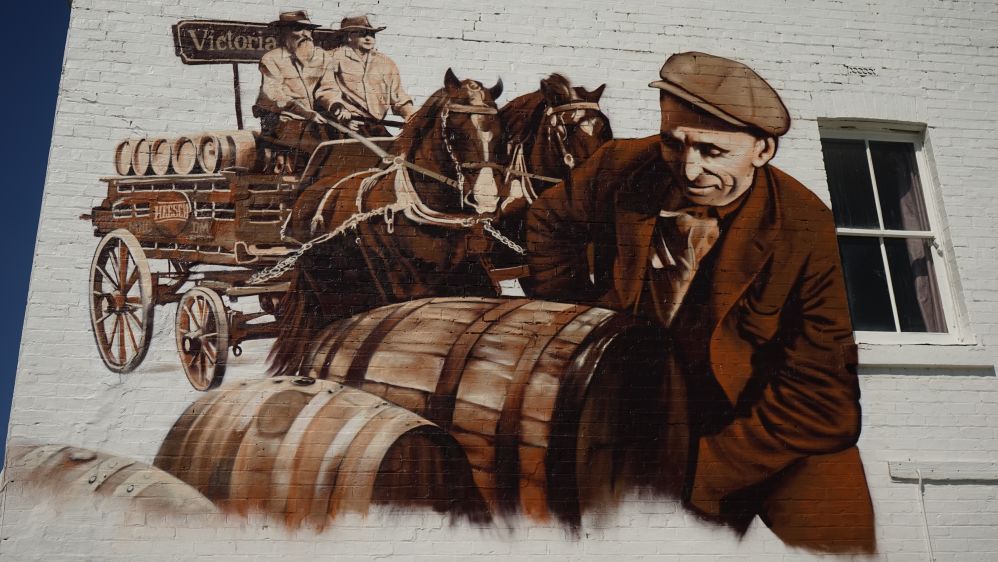 MURAL History of the Victoria Hotel Alberton
MURAL LOCATION – 53 Turnbull St, Alberton VIC 3971
WHY WE BECAME INVOLVED – "We heard about what was happening in Yarram and watched a video about Heesco and his work with local artist Wayne Tindall owner of the Yarram Bull Bar and thought it would really be a good thing to give something back to the community. We made contact thinking we were too late as the project was already beginning, but Wayne And Eric Greenaway came straight down, and it just went from there.
After an initial conversation with Wayne, we decided on a heritage image that was not too bright but one that would stand out boldly and be seen clearly from the South Gippsland Highway. It had to be a period image & of course hotel related, hence us picking a gentleman unloading old kegs by hand. Wayne designed the image for us and mocked it up on our wall. We loved it straight away.
Dealing with Wayne & Heesco has been a breeze, nothing was an issue both in the planning and execution of the work." Brendan Farley – Victoria Hotel Alberton
THE MURAL DESIGN – "I came up with the design for Brendan and Michelle pretty quickly as they were very clear about what they wanted and also the size of the finished images they wanted on their beautiful old building. I decided to keep it all sepia tones to fit in with the period of this historic building, and once Heesco got onto the wall the image just came alive. Heesco – you are a champion!" Wayne Tindall – Artist/film maker
ABOUT THE VICTORIA HOTEL – Established in 1891 the hotel sits in the small town of Alberton, next to Port Albert. The small town was once bustling, with many people arriving from all over the world to berth at Port Albert on their travels to the goldfields. Many early pioneers arrived at this port before railways were built.
Many of the old buildings that remain in the area are of Georgian and Victorian style heritage. It's hard to believe that these towns, all joined by a scenic road with stunning views of nearby Wilson's Prom, were once the biggest in the area, they all now are off the beaten track, full of holiday makers looking to explore.
When it was booming, Alberton contained several buildings such as stores, hotels, even a police magistrates and court of petty sessions.
Once the railway and shire offices were built and moved to Yarram, the town began to decline. Now the town is a small farming community, mainly cattle farmers, nearby Port Welshpool which offers cruises around the Prom and boasts an iconic "Long jetty", which is over 572 metres in length