Time: 3hr 21min
Distance: 110km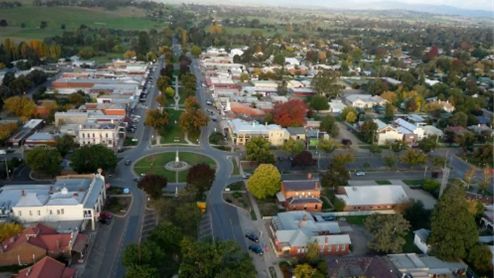 Mansfield is the departure point for our trip to Jamieson through Howqua Hills. Leave Mansfield and travel east towards Mount Buller on the Mansfield - Mount Buller Road. Just through Merrijig and to the south you'll find the signposted Howqua Hills Road leading to Sheepyard Flat. An alternative route to Sheepyard can be taken via the more interesting Doughertys Road, which starts 9km down the Mansfield - Mount Buller Road near Sawmill Settlement. From Sheepyard Flat, continue on to Frys Hut. From there travel to Tobacco Flat on the Howqua Hills Track, which leads into Steiners Road. The track runs into Mitchells Track passing the Mitchells Homestead ruins and Mitchells Flat campsite. There is a very steep climb from Mitchells Track to Wrens Flat and west onto Mount Sunday Road. Mount Sunday Road runs into Silvermine Saddle Road and takes you out on to the Heyfield - Jamieson Road to complete the journey to Jamieson.
Starting out at Mansfield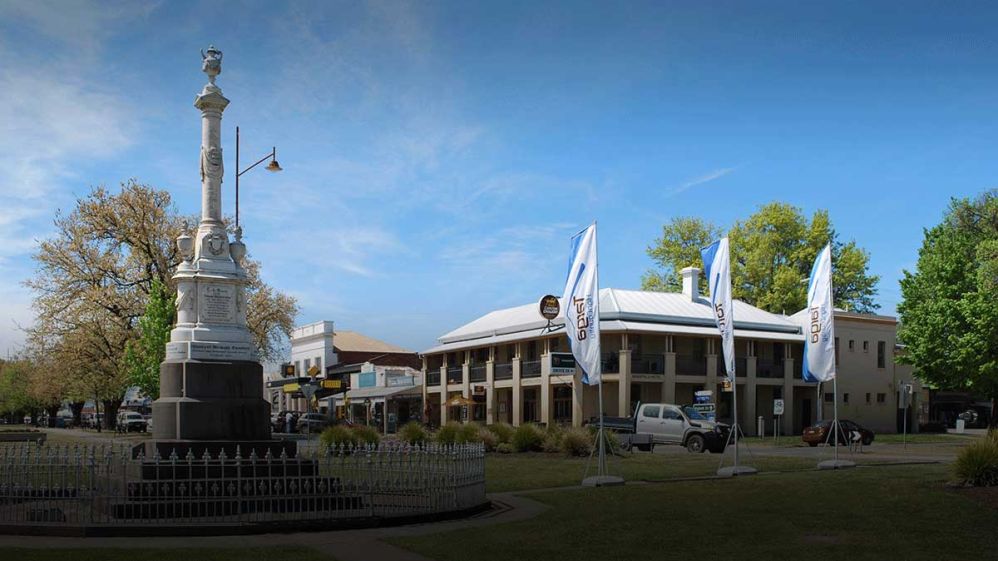 Start your adventure to Jamieson from Mansfield. Heading east travel towards Mount Buller on the Mansfield - Mount Buller Road. Just through Merrijig and to the south, you'll find the signposted Howqua Hills Road leading to Sheepyard Flat.
Sheepyard Flat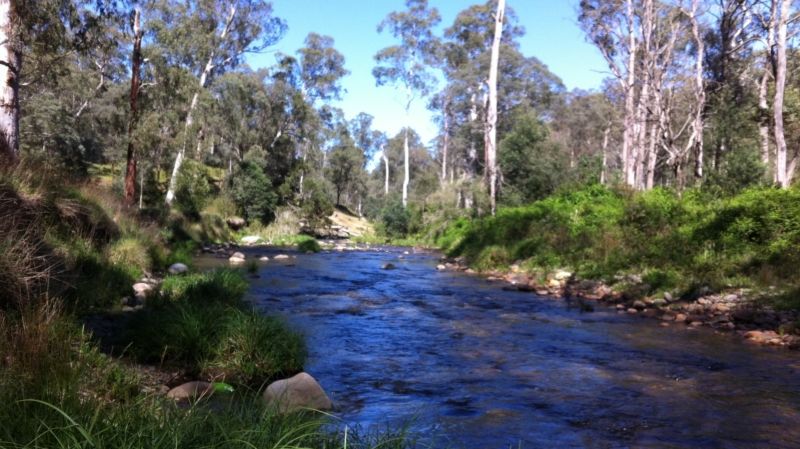 Sheepyard Flat is in the Howqua Hills Historic Area near Mansfield, Victoria.
It offers free camping next to Howqua River and is a great base for hiking, fishing and 4WD adventures into the Victorian High Country. Locals say that after the valley was settled, shepherds would yard sheep on this flat at night to keep the dingoes at bay.
Walkers can enjoy the Howqua Hills Historic Walk with self guided interpretive panels. This easy 1.5 hour return track follows the Howqua River from Sheepyard Flat to Fry's Flat.
Fry's Hut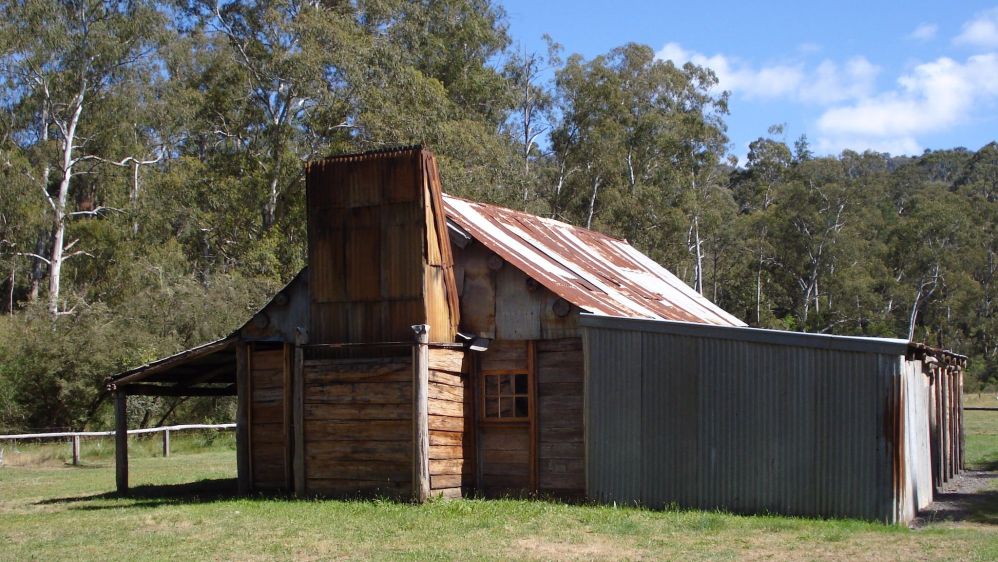 Master Bushman, Fred Fry, built his riverside high country home in the late 1930s.
Using split timber and his own personal style of workmanship he erected many huts in the region including Jamieson Hut, Ritchie's Hut, Gardiner's Hut and Noonan's. Fred lived a solitary existence for many years in the Howqua Hills area, prospecting and packing supplies for government agencies and fishermen. His life in the Howqua Valley was the basis of Neville Shute's 1950 novel 'The Far Country'.
Overnight camping is not permitted in Fry's Hut, however there is an extensive camping area adjacent to the hut. Take the 1.5 hour return Howqua Hills Historic Walk from Sheepyard Flat to Fry's Flat all year round. Horse yards are available and bookable on the Parks website. Seasonal road closures from June to November apply for vehicle access.
Mitchell's Homestead/Flat
The story of Mitchell's Flat begins in the 1860's, when gold was discovered by Robert Wren and Thomas Laklen. After prospecting for 2 years, the claim was sold to Fred Mitchell, who named the creek after himself, and used the land to store abandoned mining equipment. By 1881, all hopes of finding gold had disappeared, and William Hoskins of Jamieson, leased a 1,000 acre area at Mitchell's Flat for agricultural purposes. The Hoskins family cleared and fenced off the land, installing stockyards and sheds to accommodate pigs, chickens and cattle. Orchards and an avenue of English trees were also established. The Hoskins were renowned for their exceptional hospitality, and many outings were held at the homestead. By 1929 the Hoskins relinquished their lease, and the homestead was subsequently abandoned in 1936. Traces of the historic Mitchell's homestead have all but disappeared, thanks to the efforts of some careless campers, which led to its fiery destruction in 1989
Wren's Flat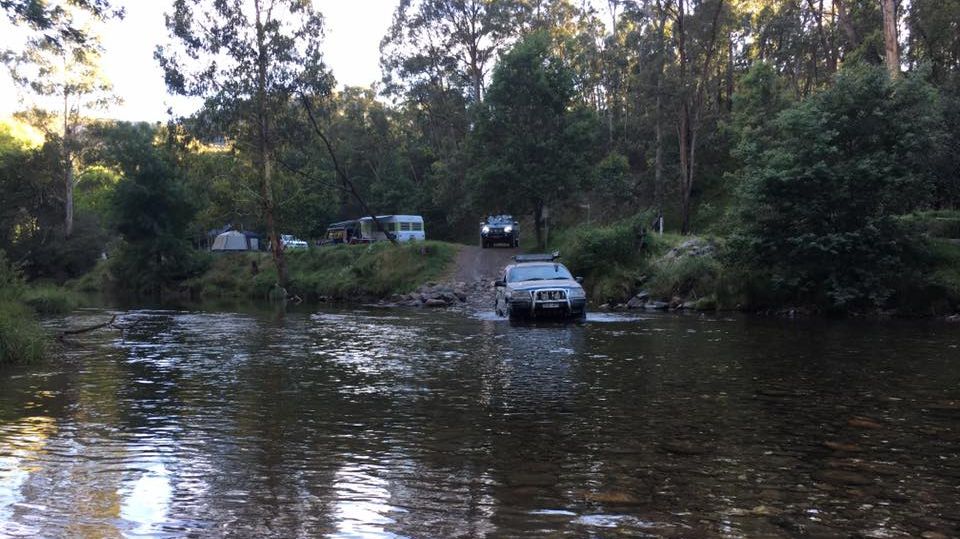 Wrens Flat is situated close to the peak Mount Sunday, and south of the ruins Mitchells Homestead.
Jamieson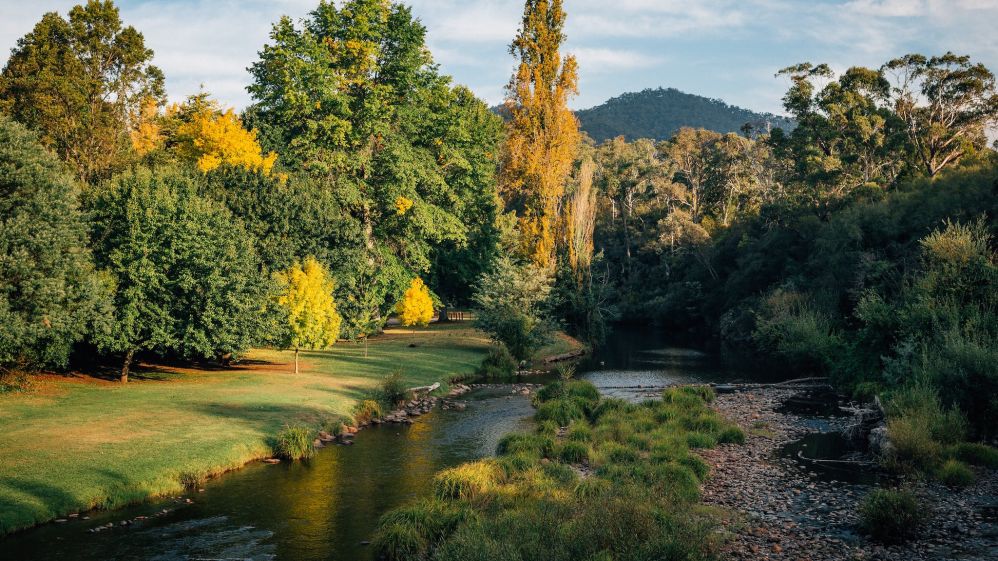 Following the discovery of gold at Cashens Point in 1854, the first signs of a settlement began appearing on what was then known as Jamieson Flat. Said to be named for George Jamieson, who lived on the flat around 1850.
It was not really a gold mining town, rather a supply town. From Jamieson supplies would be packed by horse and mule along the narrow tracks to the diggers on the goldfields of the Upper Goulburn.
At its peak Jamieson had a population of 3000 to 4000, today the permanent population averages around 100.
It is a popular destination for four wheel drive enthusiasts, anglers, and amateur gold prospectors.